Hair Extensions: How to get the length you want in the perfect color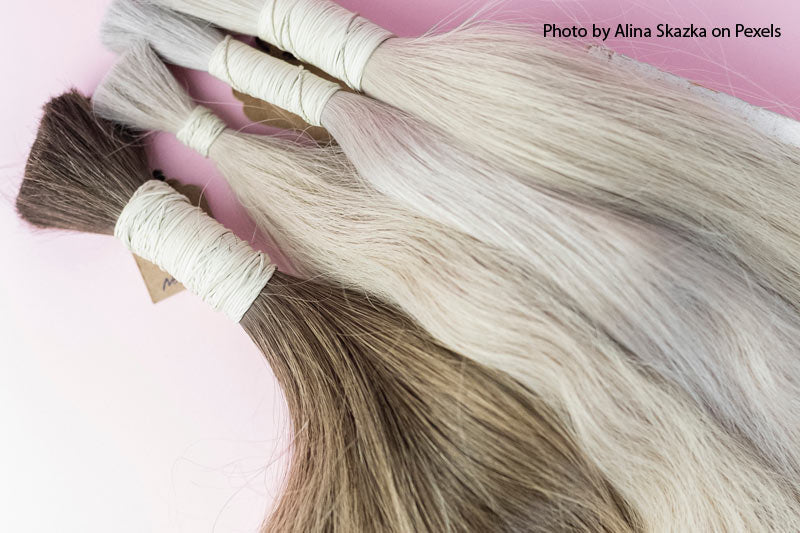 Hair extensions are a popular method for adding length, volume, and versatility to one's hair. A professional salon can offer hand-tied and other methods to help you achieve your goals, whether to wear them long-term to thicken and lengthen your hair or achieve a different style for a special event. At Station Salon, we use the habit hair extension method to give you a more natural look. Let's dive into what that means and its benefits. Working with a professional salon offers several benefits that significantly enhance the overall experience and results.
What is the Habit Hair Extension Method?
The habit method is a hand-tied hair extension method that uses a unique knotting technique to create a comfortable extension. The knots are placed closer together than other hand-tied methods, thus creating a seamless look between your natural hair and the extensions.
Depending on how hair extensions are placed, your natural hair will experience greater stress levels. With the habit method, your stylist uses smaller knots to reduce that stress on your natural hair, making it an excellent option for those with thin or fine hair. Those small knots mean your hair extensions aren't as heavy as your natural hair.
Creating a Natural Look from the Color and Length
At Station Salon, we utilize Covet, Mane, and Bombshell hair in your extensions. These come in different types of ethical, expert-crafted wefts made from virgin hair. Then they are skillfully dyed to match your hair, helping to achieve a natural look that embraces your style.

We can even choose extensions that complement your wavy or curly hair, giving you texture while providing thickness and body. Plus, with a range of lengths, you can achieve any look, from a blunt bob to the mermaid waves that give you multiple options for up-dos or letting your hair cascade down your back. With all these attributes, your hair extensions are comfortable to wear and look natural because they blend effortlessly into your hair.
Initially, your hair extensions might feel softer than your natural hair, but the difference will eventually disappear as you wash, dry, and style your extensions along with your hair.

The Pros and Cons of the Habit Method
The habit method makes the knots so small that they are virtually undetectable, even when you pull your hair back. These extensions can also be moved up as your hair grows out, allowing you to get more wear out of your hair extensions. Plus, if you have allergies, our hair extensions are less likely to cause a reaction, making them a safer option.
However, the habit extensions are more expensive because they require more installation time and skill. A welt of hair can cost anywhere from $75 and up, and most people use 3 to 6 welts, but if you are looking to lengthen your hair, more welts will likely be required. But for many individuals, the benefits of the habit method for installing your hair extensions outweigh the time and expense. After all, they are the most natural-looking and comfortable, especially for those with thin or fine hair.
Here are some advantages of choosing a professional salon for hair extensions:
Expertise and Experience: Professional salons have trained and experienced hair stylists specializing in hair extensions. They know various attachment methods, types of extensions, and how to achieve the best results based on individual hair types and desired styles.
Customization: A professional stylist can customize hair extensions to suit your needs and preferences. They can match the extensions' color, texture, and length to blend seamlessly with your natural hair, creating a natural-looking and flattering result.
Quality Products: Reputable salons use high-quality extensions from natural human hair or premium synthetic materials. These extensions look more natural, last longer, and are less likely to cause damage to your natural hair.
Damage Prevention: Improperly applied or low-quality extensions can cause damage to your hair, such as breakage, thinning, or even bald spots. A professional stylist will ensure that the extensions are applied correctly, minimizing the risk of damage.
Longevity: Professionally applied hair extensions tend to last longer than DIY options because they are installed securely and adequately maintained by the salon.
Proper Maintenance: Hair extensions require regular maintenance to look their best. Professional salons provide guidance on caring for your extensions, including how to wash, style, and brush them to ensure they remain in good condition.
Comfort and Fit: A professional stylist will ensure the extensions are comfortable and properly fitted to your head. Ill-fitting extensions can cause discomfort and look unnatural.
Consistent Results: With a professional salon, you can expect consistent and reliable results. They have the expertise to achieve the look you desire and can avoid common mistakes that may occur with DIY installation.
Confidence Boost: Well-done hair extensions can boost your confidence and self-esteem, as you'll have the hair you've always wanted.
Removal and Adjustments: When it's time to remove or adjust the extensions, a professional stylist can do so safely and without causing damage to your natural hair.
Remember, choosing a reputable and well-reviewed salon for your hair extension needs is essential. Are you ready to dive into hand-tied hair extensions? At Station Salon, we provide professional service and skills to maximize your extensions' results. Contact us today to schedule your appointment for hair extensions using the habit method.